Thermocouple Extension / Compensating Cables
Solid/Stranded conductors of the respective thermocouple extension/compensating alloys are insulated with PVC to form a core, two core twisted to form a pair, and such pairs are laid up. Inner sheathed with PVC. Armouring done wherever required and overall PVC sheathed. Shielding with Aluminium-Mylartape provided individually, on each pair and overall or only overall depending upon the requirement.
Applications
Used in processtemperature measurement.
Construction: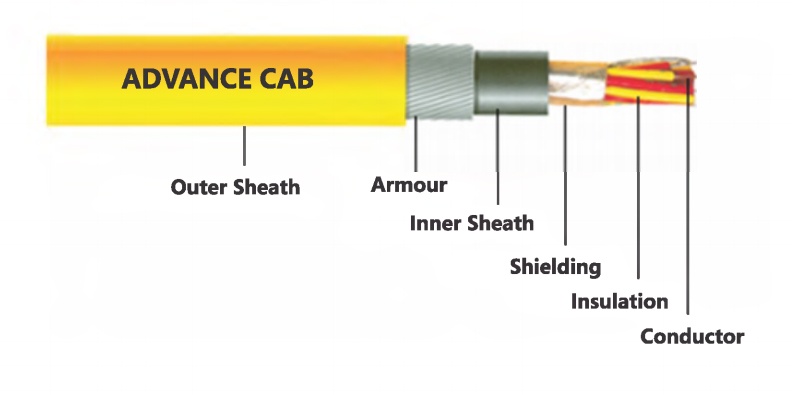 Identification
Standard Specification:
ANSI.MC.96.1/IS: 8784/BS:4937/IEC:584-3/DIN:43713/NFC42-324
CTI -UNI: 7938/1 EC 784-Part 111 & CustomerSpecification.
Characteristics:
Suitableforoperation atvoltage upto & including 300volts.
Cable suitable for conductor operating temperature 70°C.85°C&105°C can be provided on request.
Delivery Length:
250/500/1000 meters. Otherlengths are upon request.
Technical Data:

Special Properties &Variants on request:
Fire Retardant / Fire Retardant Low Smoke / Zero Halogen Low Smoke, Insulation & Sheath.
PVC/HRPVC/XLPE/PTFE/FEP/EPR/FR-LSZH Insulation
PVC / FRPVC / HRPVC / FRLS / PTFE / FEP / CSP / PCP / FR-LSZH sheathed cables.
Fire Survival / Fire Resistant compliance to IEC 60331 / BS6387 / BS7846.
PS
: Different conductor versions are supplied on customer's specific requirement.